Hashtags are one of the most effective and cost-free tools for promotion whatever social media you use. What are hashtags and how do hashtags work?
Hashtags accumulate engagement to your post. Your content will have more chances to be seen by other users who are curious about this or relevant theme. But how to do a hashtag effectively for a small business and branding? How does a hashtag work on Facebook*, Instagram* or Twitter?
Read below and get prepared to know how to pick the right hashtags strategy, and to boost up your knowledge in hashtag usage.
You will also discover:
the most trending ig hashtags of all time,
10 advice for effective hashtag usage,
simple guide on how not to become a hashtag spammer.
Content:
What are hashtags and what does hashtag mean?
How do hashtags work in 2022?
Why use hashtags?
Different types of hashtags.
How to find the best hashtags?
How to use hashtags on different platforms?
The most trending hashtags in 2022
10 advice for effective hashtag usage
How not to become a hashtag spammer
What are hashtags?
Previously known as the pound sign (#), this symbol is now used in front of a key word or phrase, written in a caption, post, comment or message in order to highlight it, making it clickable for search. In social media, by using hashtags that identify your image you make it easy for possible audiences to search for a certain topic or category and finally see your post. For example a person posted an image of a cat on Instagram* and put the hashtag #cat and #kitty. Another person will find his image in the list when types this hashtag in the search panel.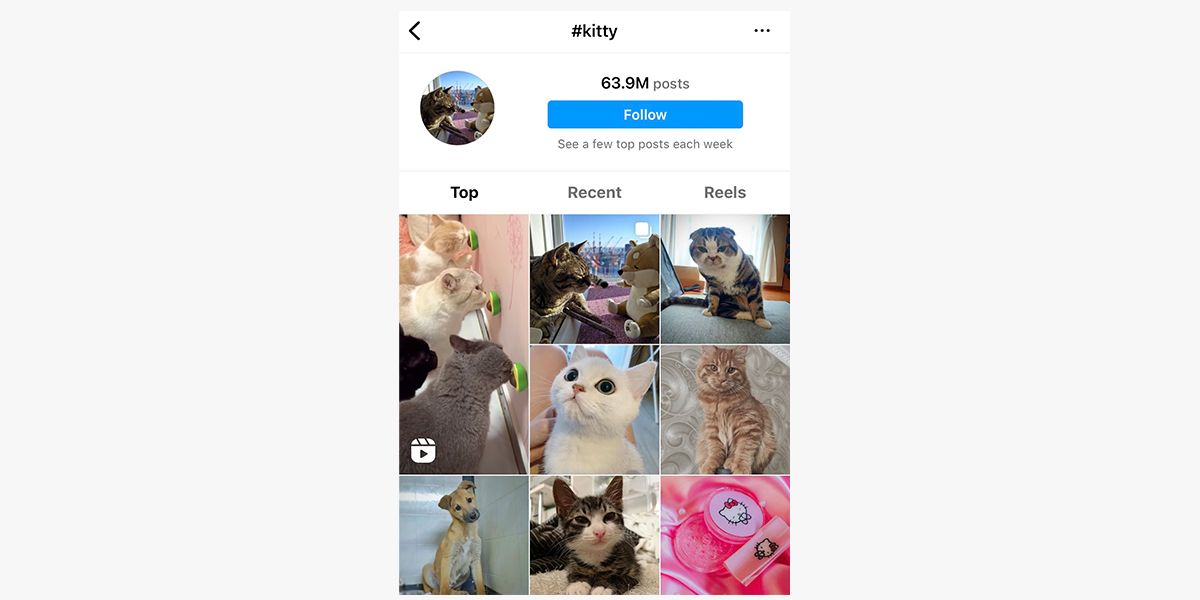 They also help to group posts around a similar topic within one user's posts or messages. It means when a user searches a specific hashtag, all the posts that include it will pop up.
There are two fundamental hashtag purposes:
to make it easy to search for information needed,
promote and make the potential customers see you.
It's rather difficult in today's bunch of posts and images to attract people and be noticed. Here comes a hashtag as one of the basic and powerful means, and indeed, no-cost tool. Everyone can use them for personal goals or business marketing promotion. The basic rules for using hashtags are:
No spaces.
No punctuation.
No special characters.
How do hashtags work in 2022?
Born in Twitter the hashtags then transmitted to every social media, Facebook*, Instagram* and others. The hashtag purpose is to ease the search for users and to help to promote the post for others.
Firstly, the hashtags help classify your content and serve your post to relevant people . Secondly, and mostly powerfully, the hashtags are used as a reference for Instagram* or TikTok algorithm, so the more people see your content the more Instagram* or TikTok can propose it to users it thinks will have a high interest in your topic. Your content is discoverable to a wider audience.
Why use hashtags?
Hashtags help your prospective and target users find you.
Inserrting a hashtag means that you make your posts or messages searchable by anyone, so your potential follower or customer is more likely to find you. Moreover, On LinkedIn and Instagram*, users can follow hashtags. You can use some popular hashtags in your topic to gain new followers or create your own hashtag to follow.
Let's look at small business owners, the cake designers from New York city who are specialized in wedding cakes. Using wedding theme hashtags in their publications on Instagram*, they become searchable for those who are going to get married. So a future bride looks for a dress or a photographer by searching different hashtags like #njwedding or #nycwedding and there she comes across the gorgeous cake, visits this account and 1...2...3... voila, follows it and turns into your customer.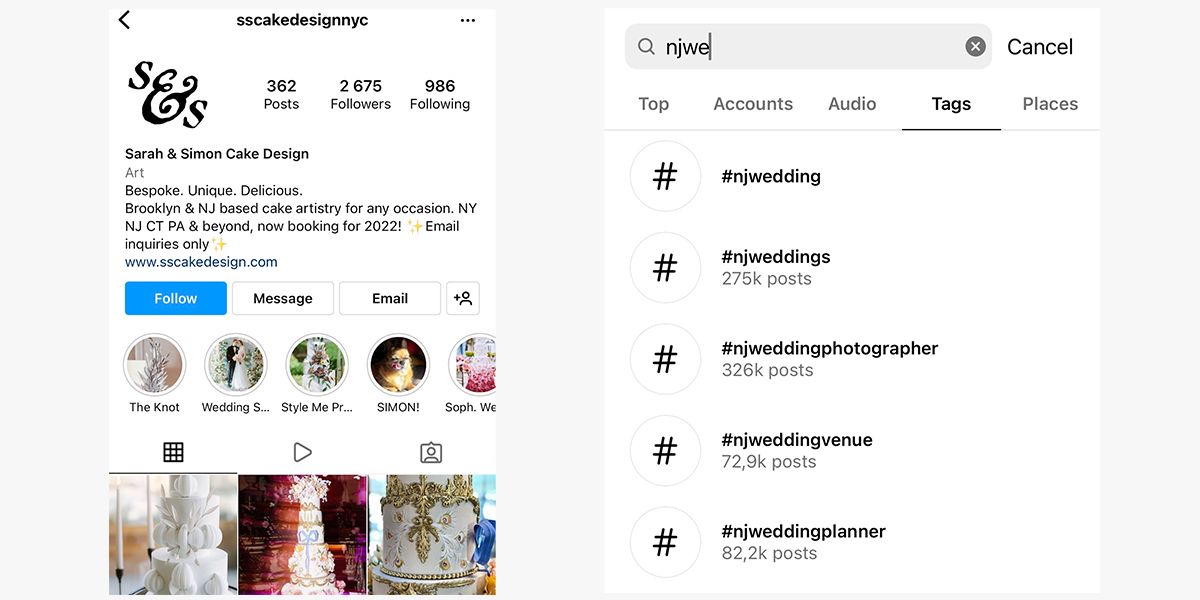 Hashtags increase engagement and CTR rates.
Hashtags definitely drive more traffic to your post, there will be more views, therefore more likes and shares. All indicators of statistics will show the higher level. Using hashtags you strengthen engagement rate in your profile and increase click-through rates. It's easy and free to discover such statistics on Instagram* or Facebook*.
Users with similar interests are able to get to know each other, interact with one another on social media, and become a part of a thematic social network. Those who passionately read books will unite under such hashtag examples as #readacrossamerica or #worldbookday. In Twitter users can create a group chat and also unite under a hashtag.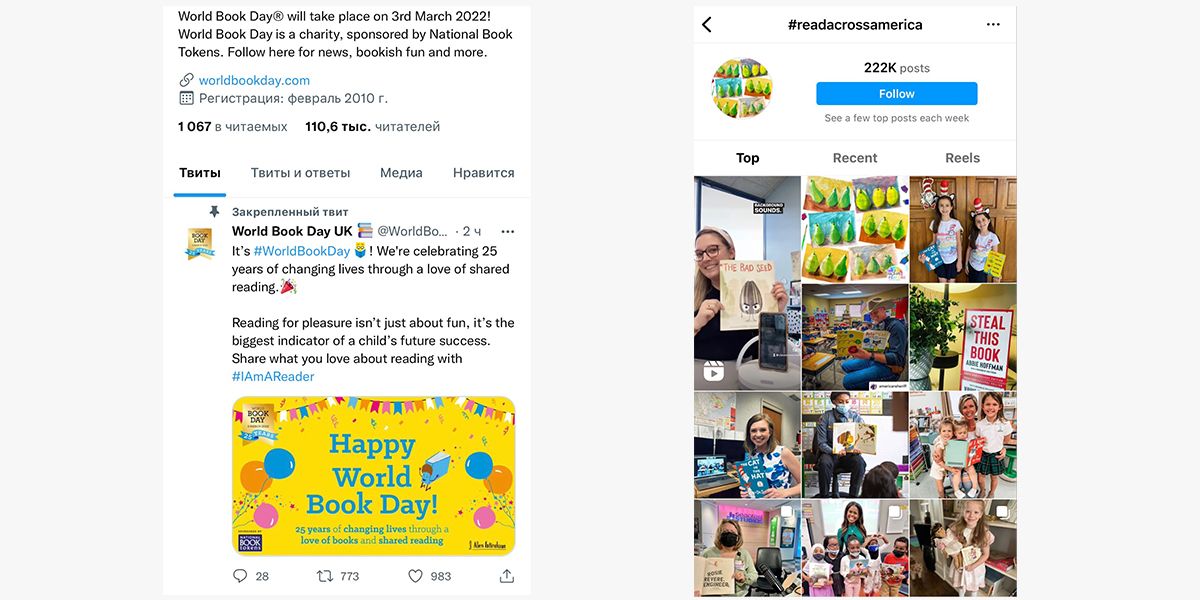 Promote business with branded hashtags
How to do a hashtag for branding purposes? Unique branded hashtags are rather productive and efficient in promoting and marketing strategy.
For example a company, a brand, a store or an expert conducts a new campaign or promotion, and their goal is to unite all their posts and all users' posts mentioning this campaign together. They put
Another effective use of branded hashtag is generating a contest or giveaway for your brand, so the users in order to win something start participating using and spreading your branded hashtag.
Finally, a brand could simply create its own hashtag engaging people to mention them, therefore, turning such mentions into UGC (User-Generated Content). For example, the famous online store Modcloth put in the Instagram* bio-section #MyModCloth, and there are more than 18 thousand ig posts down this hashtag. Good marketing strategy.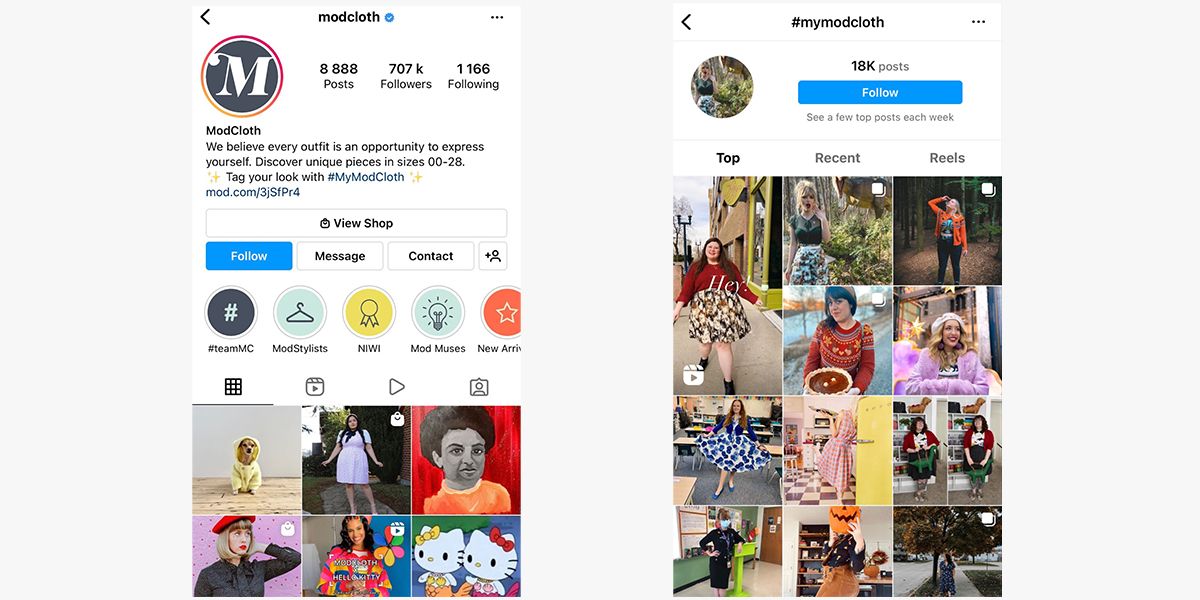 Holidays and social issues
Different events, holidays or important world causes hold their hashtags. You can become part of the conversation showing support for events' campaigns or congratulate users with a holiday. But be careful here, don't put such hashtags if nothing in your post is relevant to a theme. Otherwise, it may seem like spam or simply a bad taste.
3 hashtags families
Hashtags can be divided into the following large families:
Content or theme hashtags. These are the hashtags that point at your main theme, business, your service or product. Your company creates websites, the hashtag examples for you are: #seo, #smm, #digital, #design, #websitedesign.
Trending Instagram* hashtags. These are hashtags that became popular among thousands or even millions of people, they can help you boost your account. Add #Photography to a beautiful picture or #PicOfTheDay to something funny or interesting happened.
Branded hashtags. As we have mentioned, it is a good idea to create a branded hashtag for promotion. This type of hashtags can be used generally in marketing strategy and UGC, or specifically for contests, marathons, giveaways, promotion weeks and special events. The hashtag should be unique and catchy. You should also keep in mind that users should be stimulated and interested in using your hashtags. Your brand will definitely win after such virusing hashtag strategy.
According to their usability hashtags can be high-frequency (#cake, #smm), mid-frequency (#weddiingcake #smmmanager) or low-frequency (#cakedesignideas, #smmbeauty).
Geographical hashtags or in other words location-based hashtags are very important too, especially for local businesses and brands. Let's take a psychologist from Canada who wants to be popular around the world, get the audience involved and force them to buy the online-course. General hashtags #psychologist #psychotherapist #selflove #relationships #couplestherapy will work good. But if the same psychologist wants to run his therapy offline in the office, it's better to use hashtags mentioning the area or town of his work: #psychologistcanada #psychotherapycanada
Tools for finding hashtags
You can start your hashtag research in the search bar of social media. For example, on Instagram* you select a popular hashtag and swipe through the related hashtags displayed under the search. When searching for #travel, Instagram* will display #travelphotography, #travelblogger, #traveltheworld, etc. Moreover, you can click on the top posts in the search and find in the caption other related hashtags. Look at the posts and videos in the recommendations section.
To discover how to make hashtags take a look at what hashtags your competitors use and how often. By keeping an eye on their top posts, you will get inspired with some new hashtag ideas.
Another way to find trending Instagram* hashtags is to use specific programs and hashtags generator tools for finding the best hashtags for your niche. These are usually free to use, give you a list of related hashtags when you type a word into the search bar, show which hashtags are the most popular and the most effective. For example, hashtagify.me, Kicksta, hashtagsforlikes, Ritetag, hashtags.org, best-hashtags.com and others.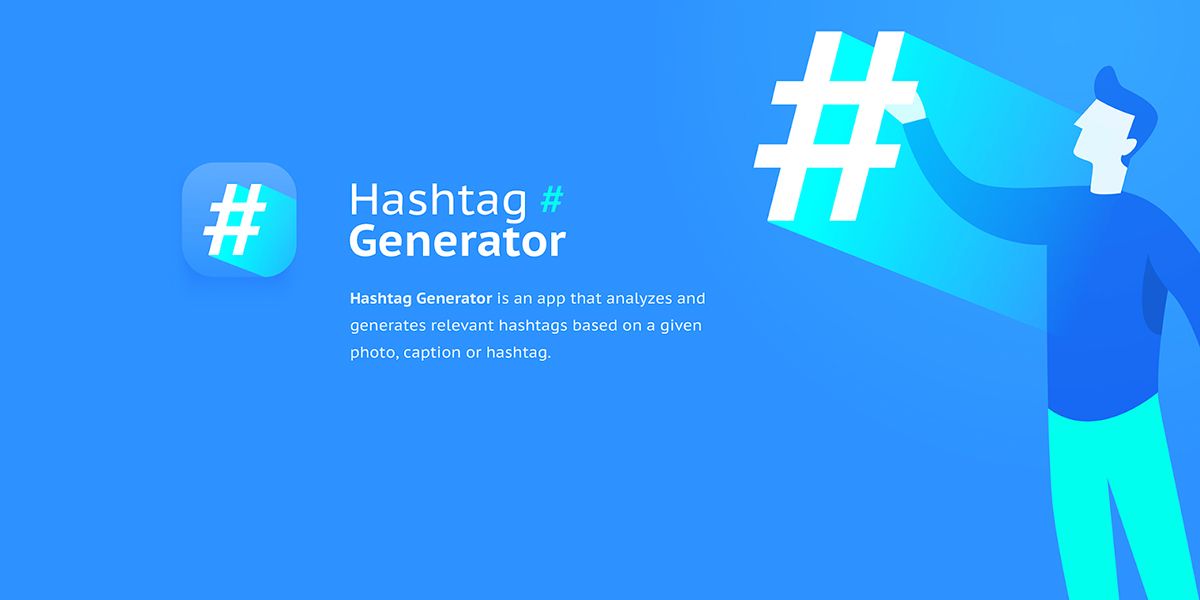 How to make hashtags on different platforms?
Twitter. The suggested number of hashtags is 1 or 2 because the tweet itself is only 140 characters. You can place them at the end of the post or include the hashtag right in the middle of a sentence. The most effective way of using hashtags is to participate in group chats.
Hashtags on Instagram* are one of the basic tools for promotion. This social network allows up to 30 hashtags. But we suggest using no more than 5-10, otherwise you will lose engagement. It's better to place them at the end of the post or hide them in the first comment. Useful feature is the possibility to follow Instagram* hashtags. In the bio section the hashtags are also clickable (here you can place your personalized hashtags to help users easily find posts in your profile on specific topics). In the "Reels" section hashtags also work effectively and bring more eyes to see your video.
Hashtags in Facebook*, LinkedIn and G+ don't have as much influence as in other social networks. Too many hashtags look annoying here and decrease the readability of the post. Better use 1-3 hashtags.
Pinterest proposes up to 20 hashtags included in the pin description. It's better to use more specific topic hashtags here.
YouTube. Hashtags may be included in a title or in a video description. The suggested number of hashtags to use is 1-3 hashtags.
Using hashtags on TikTok helps to increase reach and therefore facilitates your video to become recommended to other users. You can enter some popular challenge via hashtag or start some virusing challenge for your brand and create your own hashtag to follow. 6-8 hashtags is the optimal number for TikTok.
The most trending hashtags in 2022.
What are the most trending hashtags on Instagram* of all time? The most popular ones are of general themes such as food, fashion, travel, fitness, beauty, photography.
The top 20 ig hashtags of all time are:
#Love
#InstaGood
#PhotoOfTheDay
#Fashion
#Beautiful
#Likeforlikes
#PicOfTheDay
#Art
#Happy
#Photography
#Instagram
#Nature
#Photo
#Travel
#Music
#repost
#cute
#tbt
#instadaily
#food
The list of the trending hashtags depend on the social platform. For example in LinkedIn the professional and business hashtags will be the most popular whether on YouTube the best hashtag examples to use are #youtube #video #vlog #live #life, #gaming, #travelblog or #beautyblog
10 advice for effective hashtag usage
BE SPECIFIC. Choose specific hashtags, because particular and niched hashtags will attract the right targeted audience for you.
SIMPLICITY. Too smart and vague hashtags will not be appealing. No one searches for difficult hashtags, and using them is rather pointless and unproductive.
AUDIENCE. First of all, take a look at your prospective follower or customer, and which hashtags he/she is more likely to search. Keeping that in mind you will hit the target audience.
NOT IN EVERY POST. Don't try to fill your post with lots of hashtags. Instead, use them when they add value and are likely to stimulate interaction.
DIFFERENT. Do not use the same hashtags in every post. 20% of your hashtags should be renewed. You should use a mix of hashtags. Some hashtags should relate to your brand or your content, others should describe a photo, and also part of hashtags should point at your local area (if you're a local business).
ANALYZE. On certain social media, like on Instagram* for example, you can look for statistical data in hashtag usage: how many users come to see your post or follow you through the hashtag. This information is useful as you can analyze and change the list of hashtags if they don't bring you the desired result.
SHORT. Do not put too many words in one hashtag, as this distracts people. Such hashtags like #youwillnottrytoreadthis aren't searchable at all.
STRATEGY. Follow your marketing strategy in using hashtags and think strategically, what are hashtags used for. You should mix different types of hashtags - high frequent with low frequent, broad and specific.
TRENDS. Trending hashtags seem to be satisfying, but obviously your post will be missing in a crowd of posts with the same trending hashtag. You will have no chances to attract the target audience. The more popular the hashtag is, the more competitive it is. The posts with trending hashtags are published constantly, so your post in a few seconds will scroll down left unseen by the users.
RELEVANT. There will be a low interest in the post which includes hashtags having nothing in common with the theme, for example, #follow, #beautiful, #likes. Users will not consider this worth their attention and will not open the post. Irrelevant hashtags lead to the low engagement rate. Be objective in choosing hashtags.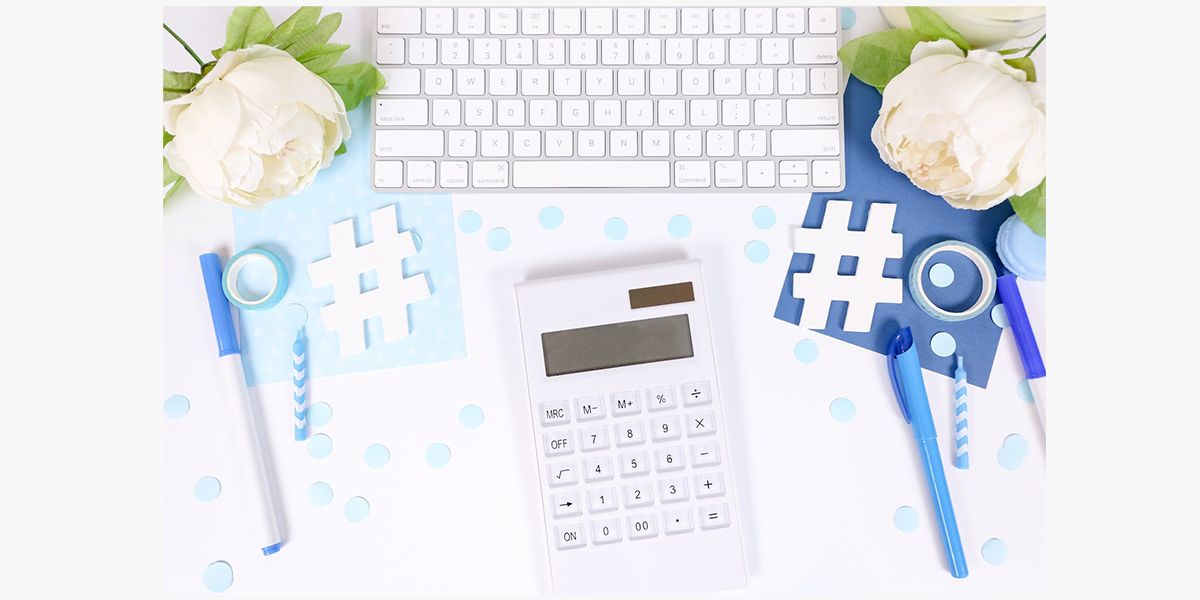 How not to become a hashtag spammer?
The best strategy as we have mentioned is not to use the same exact hashtags on every single post. This can look spammy not only to users but also to the social network algorithm, therefore it will range your post spammy and will not show it to the potential users interested in this topic. You should keep in mind that some hashtags don't match certain posts. As you write the posts in different themes, the hashtags should correlate with these themes too, making the link between the interested user and your content.
Everyday a bunch of different hashtags become trending, so it's important not to get so comfortable with the hashtags that you use. Change, combine, test, but firstly, start to use hashtags today! Don't miss the opportunity to promote yourself for free.