We insist that it is still a powerful tool and can get a lot of work done to promote your business. See our ultimate guide and master the insta stories.
How to use Instagram* Stories
Insta stories were introduced in 2016 and since that time their role has changed. They are being phased out from the Explore tab, following Instagram*'s strategy to become more of a video platform with Reels. But according to Socialinsider, last year the average number of stories posted by businesses increased. And accounts above 100k subscribers even doubled their stories. So, abandoning Instagram* stories sounds like a missed opportunity, right?
The format remains the same: vertical full-screen photos and videos that last 24 hours. But many businesses still struggle to start using this powerful tool. Let's start with basics and put together your own IG stories strategy for this year.
General Guidelines
Thinking about strategy for your story posts can be daunting. Many of us tend to look at competitors or large brands with really huge budgets for content making. But it doesn't mean you can't start building your own IG story strategy right now.
Keep in mind that Stories on Instagram* support a vertical format with a 16:9 aspect ratio. It means that all visual content you want to use for stories must be adapted to this format before posting. If you hire someone to get your visuals done, make sure to inform them that it must be story-friendly.
Photos vs Videos
Another important thing is choosing between photos and videos. According to a study by Socialinsider, videos have a smaller Tap Forward Rate. It means that people actually watch them, rather than skipping. The same study shows that exit rates are higher for video content if it's not engaging enough. It means that you need to study your audience preferences and experiment with formats.
There are no certain guides on what videos should look like. But different studies show that even short eye-catching footage can do a trick.
If you struggle to film your own videos, pay attention to stock video banks. But make sure that you follow the license. If that still sounds too complicated, you can always use GIFs supported by Instagram* to add some dynamics.
Actually, you don't need to arrange a photo or video shoot if you are on a budget. The good thing about Stories format is that they can be naturally separated from your polished main feed. Feel free to give your audience a sneak peek of the backstage or production process, share real unpacking and product reviews published by the community. That helps to build trust, and maintain a friendly tone of voice while preserving the aesthetics and visual code of your page.
With that given, let's take a look at the business opportunities IG Stories format gives you.
Make Announcements
This is the most obvious way of using Insta stories but so many business owners ignore it. You can announce pretty much anything: from new posts in your feed to product launches coming up.
And here come Stickers. To access the sticker menu, tap the button in the upper right corner after you have uploaded the picture to your story and voilà, here they are.
To make an announcement we will be looking at two stickers: Countdown and Link.
Countdown. This sticker allows you to set a timer for any event that may be special for your subscribers: sales, discounts, new products launch, competitions, you name it.
The good thing is that people can subscribe and get a notification when the countdown is finished. That can give you a very deep insight into the actual engagement and help you find the most active subscribers of your community.
Link. Good news! Recently Instagram* has unlocked this feature for all the accounts, even if they have less than 10k followers. But remember that by dropping a link you are drawing the user's attention from your Instagram* profile. Make sure that the page you guide them to is worth it. Otherwise, they flee from it and avoid any links in your posts in the future.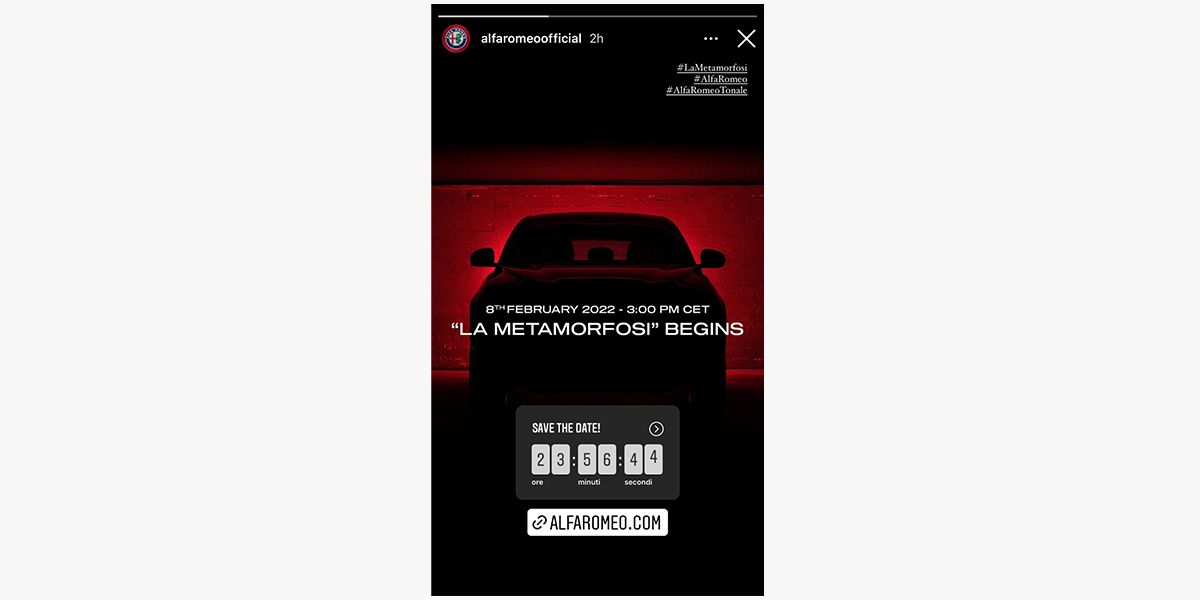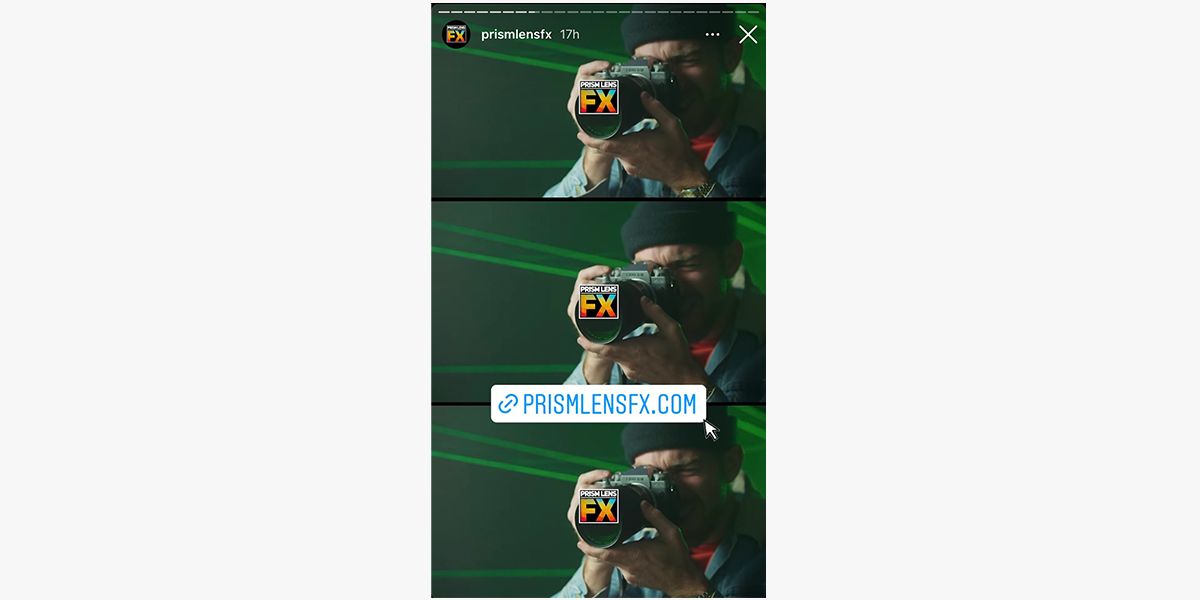 Build Engagement
First things first. Few people understand what engagement is and why it is important for your business. Basically, engagement is a correlation between views and any kind of interaction with your content: likes, shares, reactions, etc.
If people interact with your content, the Instagram* algorithms show it to more people. If they are interested too, it goes viral.
So, you need to make people interact with your insta stories, and the platform has tools for that too.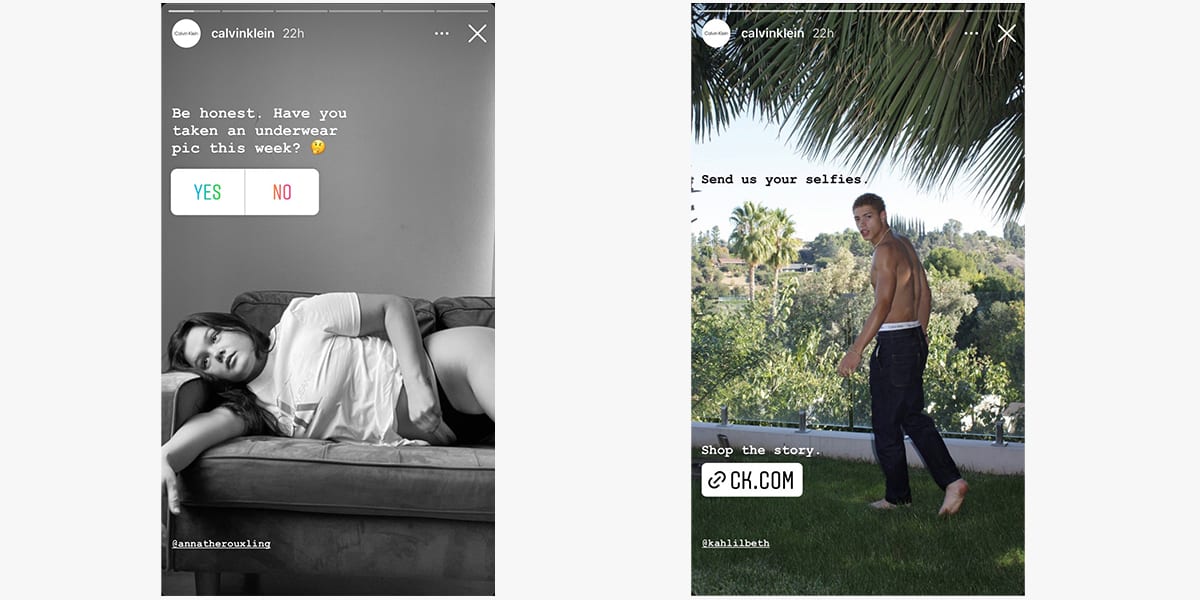 Reaction Slider. Just a fun sticker to get quick feedback from people. Drag, drop, repeat. But don't overuse it.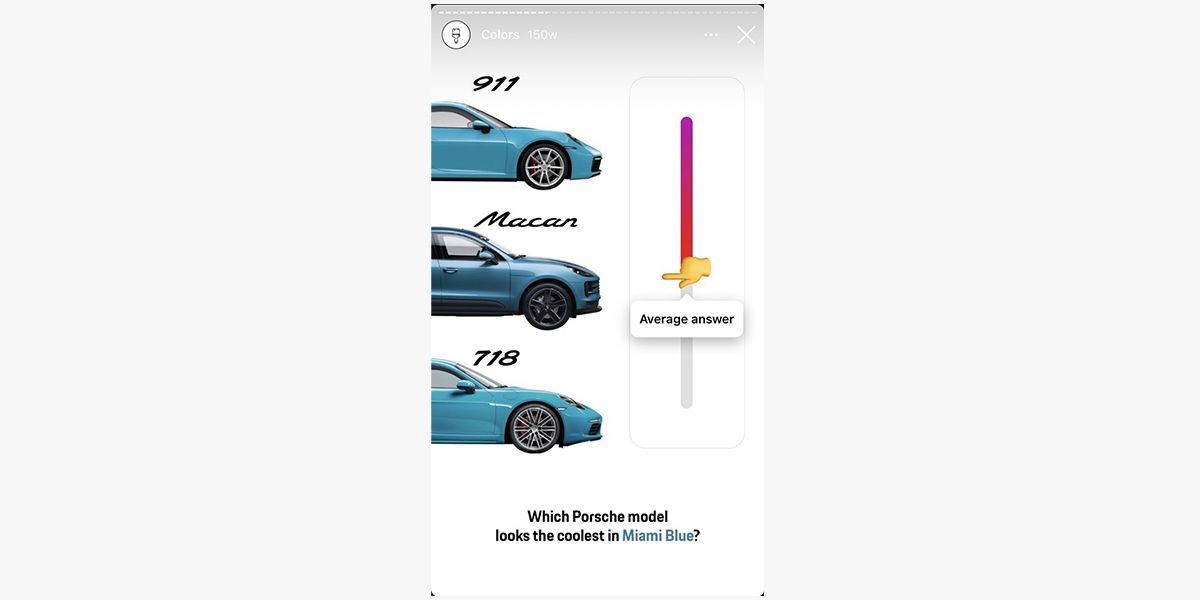 Polls. Polls suggest an alternate choice between two items. Ask people what type of content the audience expects from you or offer to compare your products and stay connected with the community.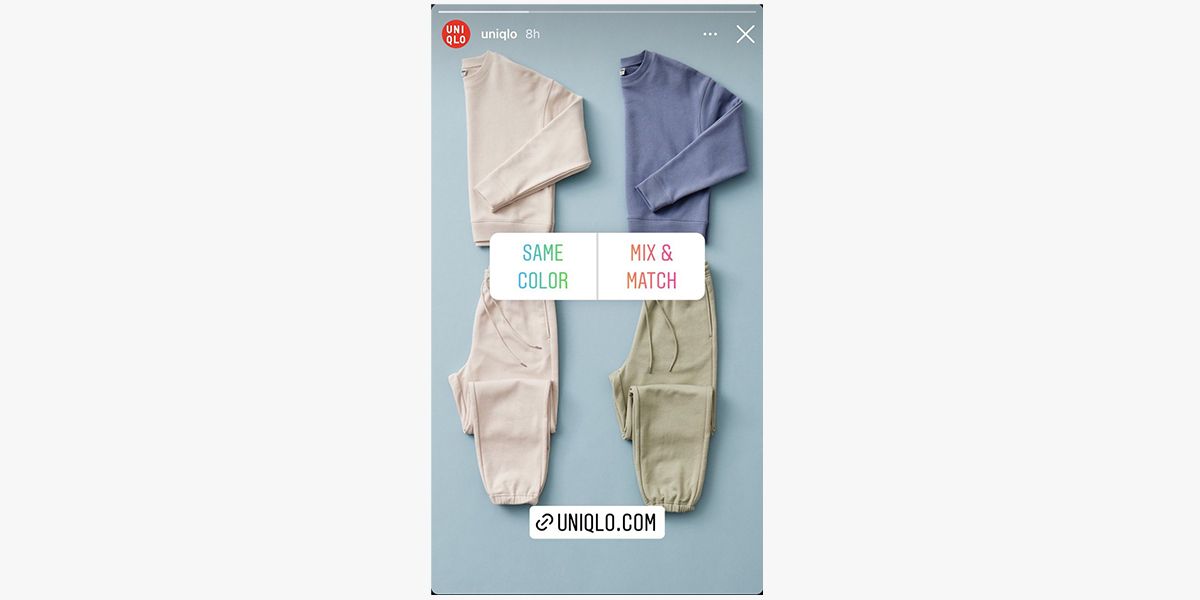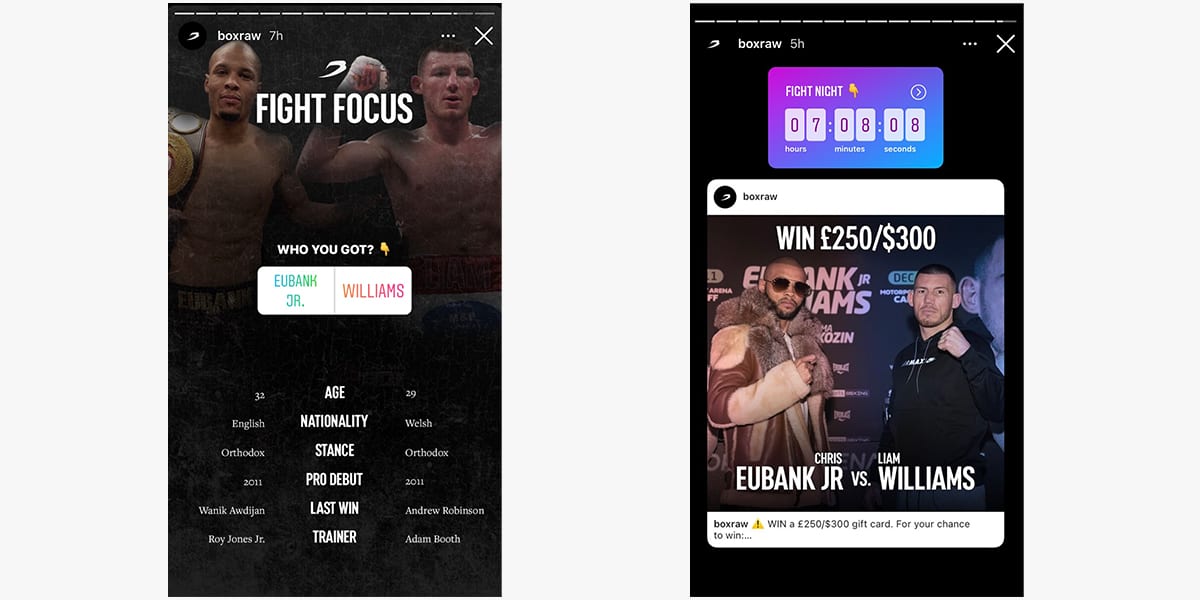 Questions. Get creative with this one. Ask something personal or give people an opportunity to feel smart. And don't forget to share answers with other subscribers. If your audience sees that their answers are going nowhere, they won't be eager to contribute next time.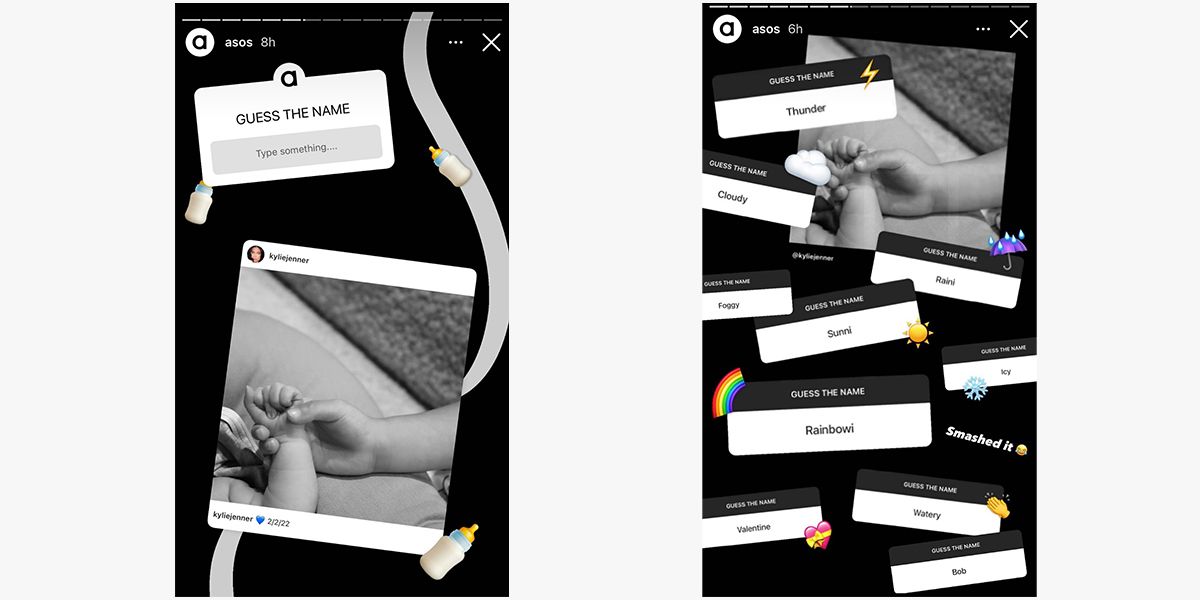 Quiz Sticker. Quizzes can be a powerful tool to get quick insights from your target audience. How often do they get food delivered? How many times a week do they do sports? Rely on your own data to design better products for your fans.
Another good strategy for quizzes is to promote something on your website. Say, you have started an educational online course or posted a huge longread. Ask the topic-related questions or play the True/False game. People have already put some effort into this content and they will probably want to follow the links and view more.
"Add yours" Sticker. This one is pretty new and it allows going viral easily. Give people a topic, see them share their own stories. Your account's name will be in every Instagram* story made as a reply.
The Tricky Trio
You may have noticed that we didn't mention another three types of stickers: Location, Hashtag, and Mention. In fact, they are quite tricky to use for business purposes but we've got your back with those as well.
Location. You have probably tried to attract someone by regularly putting the Location sticker on your stories, and you have probably failed. If you have a smaller business like a barbershop or restaurant, pay attention to big events nearby: it may be a fair or some annual celebrations. In this case, geotag can certainly drive you some exposure.
Don't forget about Location stickers if you participate in professional events like expos or conferences. People may look for some useful information and come across your Instagram* profile.
Hashtag. You are most likely not going anywhere by randomly posting hashtags on your stories, even if you pick the most popular ones. Instead, pay close attention to big social campaigns and events in your region. For example, Earth Hour takes place every year and if your brand is eco-friendly, it is the proper time to share your values with the subscribers. Schedule a story for March, 26th and don't forget to put the campaign's official hashtags on it: #EarthHour and #ShapeOurFuture.
Mention. Mention stickers are actually good for cross-campaigns with other brands and Instagram* influencers. Say, a famous person pops into your restaurant or you take part in a large professional event. When you mention their accounts, they get an instant notification and may share your story in their own profile.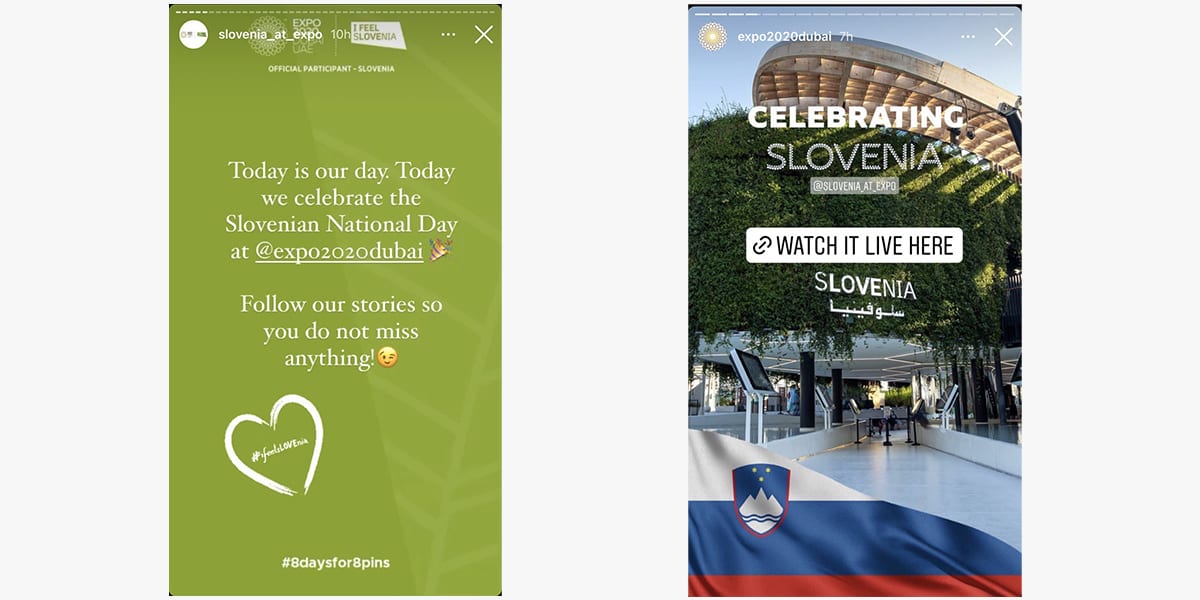 Use Highlights as Your Shop Window
People tend to underestimate Instagram* as a marketplace but 25% of Gen Zs and Millennials use IG stories to find out more about goods and services. And you can significantly increase conversion rates by making comprehensible Highlights.
Highlights allow you to keep stories even if 24 hours have passed. They are available to anyone who opened the main profile page, right above the main feed. Don't worry about the order of your Instagram* stories: you can adjust it at the moment of posting the Highlights.
Highlights can include reviews, product photos, prices, how-to-find us directions, and many more. Think about the doubts of your customers during their journey and try to dispel them at the stage of the very first contact with your product.
And remember that engagement is not the only thing that Instagram* algorithms like. They also can boost your exposure if people tend to spend more time in your account. So while they discover Highlights, your account is getting extra points.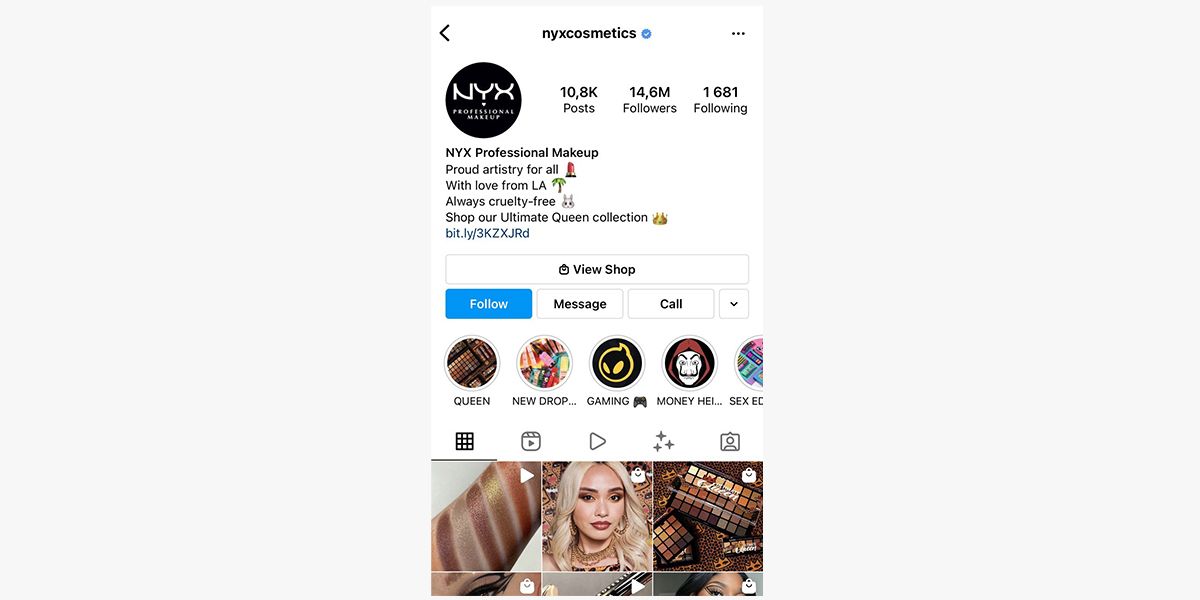 Collaborate
IG stories are a nice way to collaborate with other brands without messing up your main feed. One of the formats you can try is "Instagram Takeover". Find a similar brand or an influencer that shares your values and target audience. Then you let them take over your page and share experiences with your subscribers.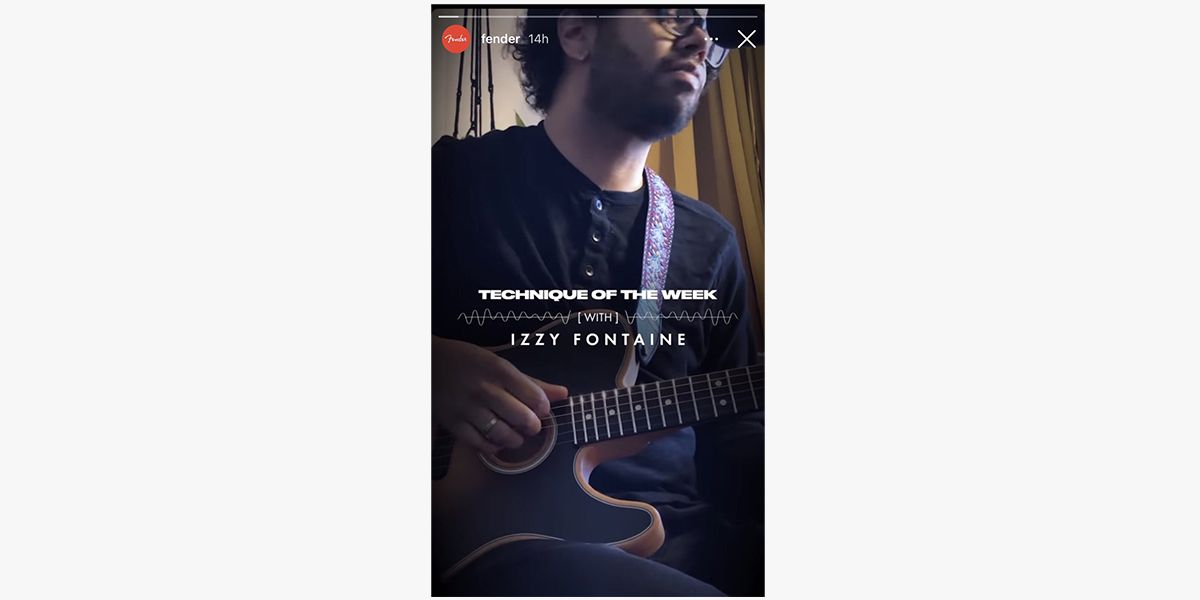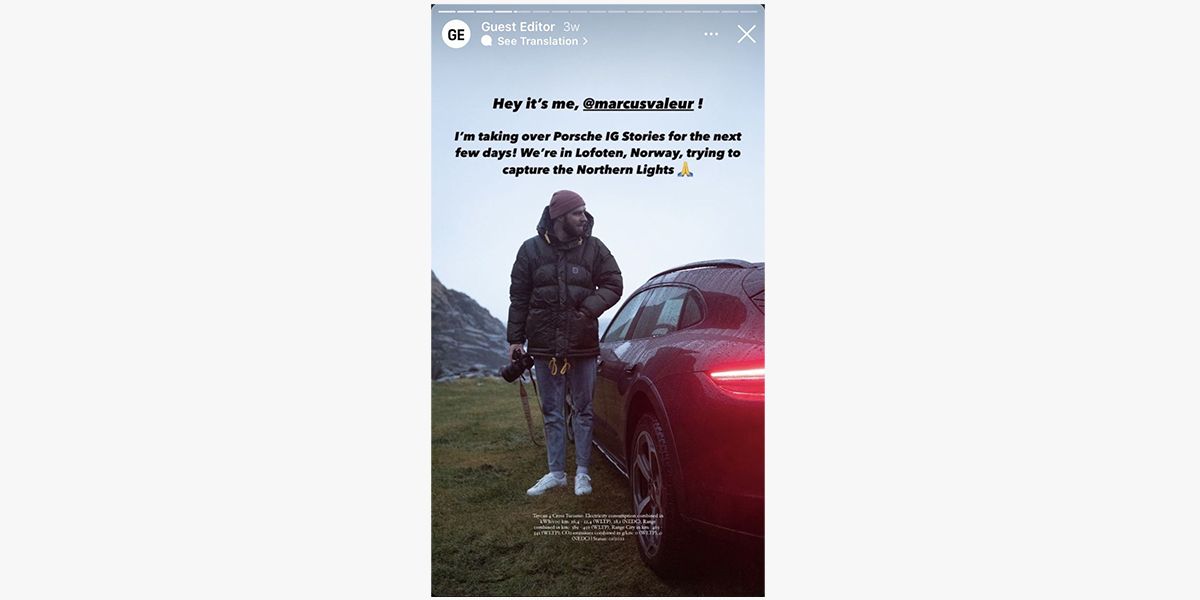 You can maximize the campaign's effect by encouraging people to post their own stories, related to the collaboration. Story reposts, mention, and hashtag stickers allow evaluating the results. We will touch upon analyzing the results of your Instagram* campaigns further.
Share Something Unique
This strategy is more about content marketing. But if you want the audience to track your stories and even subscribe to the notifications, you should find a way to introduce the unique content.
Examples come to mind when you think about the official pages of recruitment agencies or just businesses with strong HR branding. Dedicating a whole post to a bunch of new job opportunities is too much but they fit perfectly in Stories. And people will certainly want to be the first to reply to such offers.
Contests
Another good way to build the value of your stories on Instagram* is to come up with contests made exclusively for this format. Once a week you can give away a discount or something small for free. Ask questions or make a quiz about your products and brand, but don't overcomplicate it. Opt for simple and easy-to-enter activities.
Pro Tip. Create a Template
Well, at this point you have probably picked up some ideas for a month or two of stories on Instagram*. And it's time to take one step forward.
Stories are usually scrolled quickly. Because no one wants to take another look at their friends' driving point of view video. You literally have milliseconds to tell people "Stop, there is something valuable coming up!".
The easiest way to do it is to create your own templates for stories on Instagram*. A template is a simple background containing brand colors, logos, and other elements of a brand identity. They help people to differentiate you from competitors. A recognizable template is something that catches users' eyes while making your stories stand out.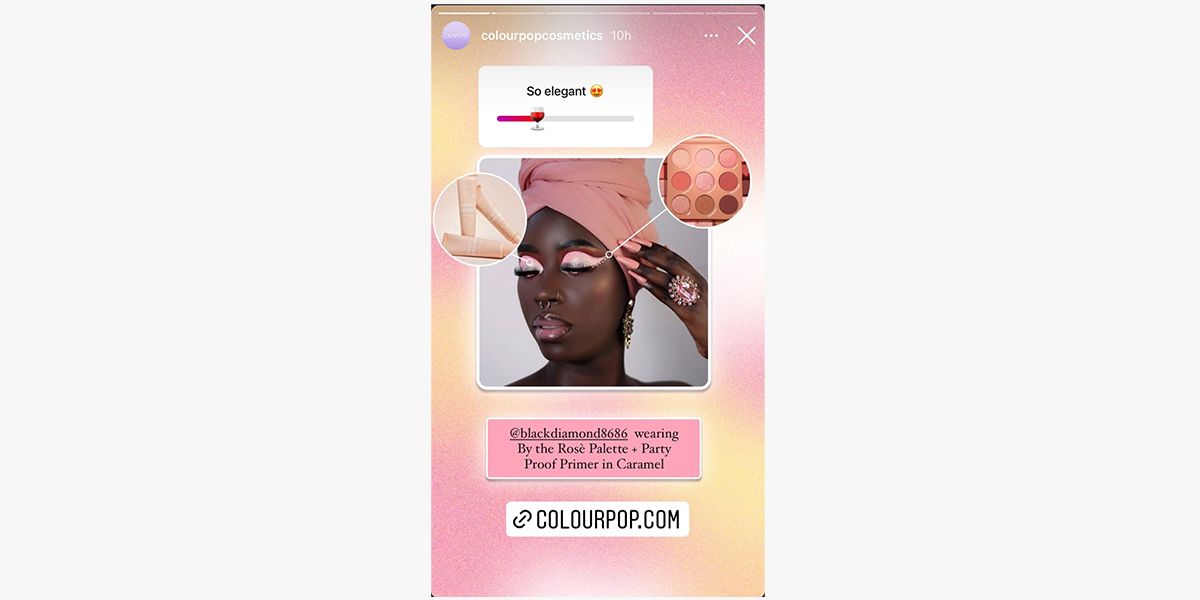 Analyze Results
Instagram built-in features allow you to analyze your stories strategy success. Before even starting your work, make sure you have a Business or Creator account. Otherwise, Insights will not be available to you.
Go to your profile and tap the Insights button right over your Highlights section. Here you can view previously posted, choose the period and metrics to analyze.
Here you can check out numerous parameters like Reach, Impressions, Follows, etc.
First, you need to pay attention to quantitative indicators. Reach means the number of unique viewers while Impressions refers to the number of times your story was opened. This will give you an insight into how many people regularly watch your stories on Instagram*.
Then move on to qualitative indicators like Replies, Shares, Sticker Taps, and others. This way you can find out if your content is engaging or not.
Aim to increase those indicators by tweaking your story posts. Add or delete stickers, start contests, try backstage vs super-neat content. Get creative and experiment!
Stay Consistent
To analyze the results of your activity, you obviously need data. Make sure you are getting the most relevant information and post stories regularly.
But if your business is relatively small and you are the one responsible for everything, posting on social media can take lots of time and effort. Start with making a simple content plan for a couple of weeks, prepare templates, and all the media you need.
After you have made those simple preparations, it's time to get everything posted. At this moment many business owners struggle to make time for social media. Unlike Facebook*, Instagram* doesn't have built-in features for postponed posting, and that's where SMMplanner comes to the rescue.

Our service allows you to schedule posts and stories on Instagram* even if you don't have strong skills in social media marketing. Go to the Posts tab and click the Schedule Story button.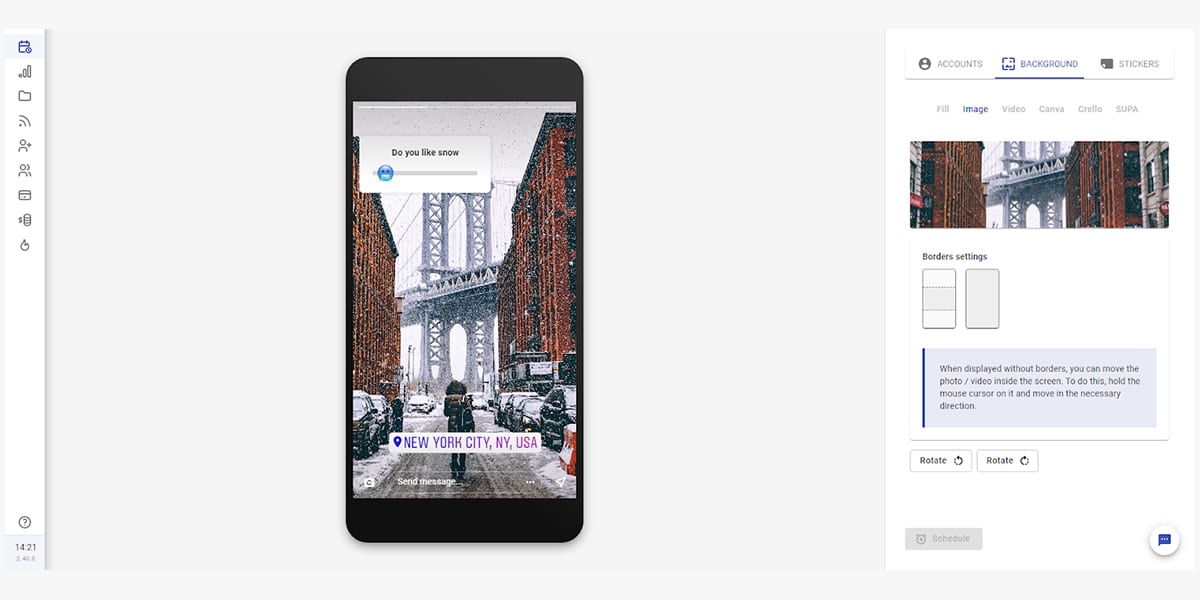 This tab opens a story constructor. It has all necessary features to solve almost any of your tasks. You have access to photo and video backgrounds, fonts, stickers, and other features. On top of that, there are pre-made backgrounds if you are not ready to put that much effort into storymaking at this stage.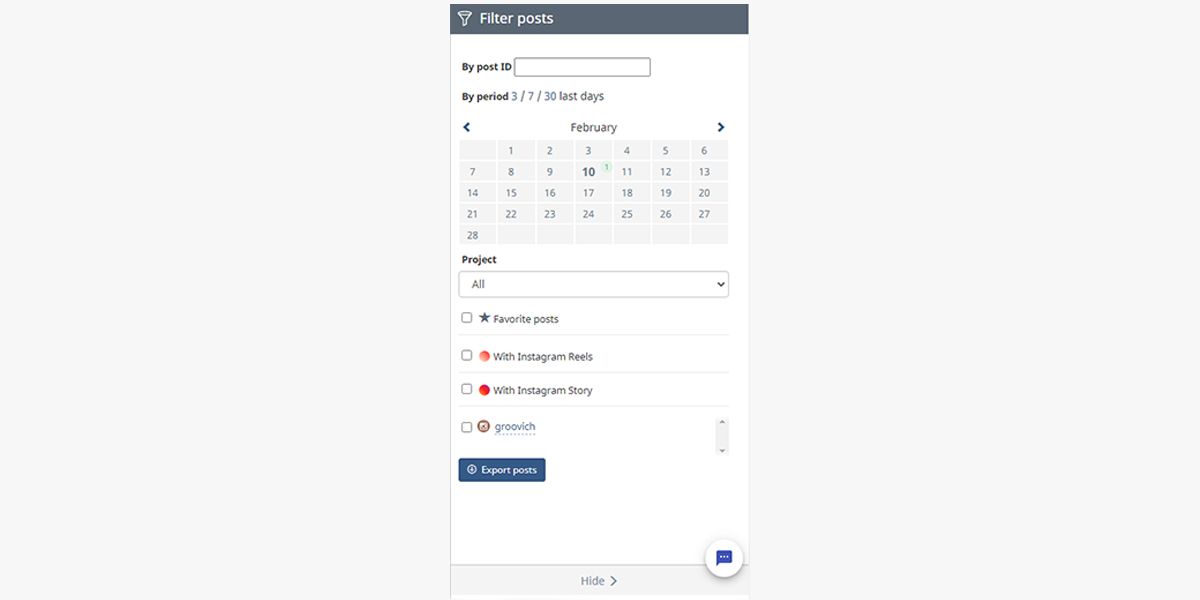 When you are ready to post, tap the Schedule button. And if you struggle with content plans in cumbersome tables, you may find our calendar useful. It has all of your scheduled posts marked, and you can easily navigate through them. Save some time for your business. Everything you need can be reached in just a couple of clicks.
SMMplanner is used by bloggers, brands, and digital-agencies all around the world. Try our service for free.
Have any ideas on how to use Instagram* stories for business? Feel free to share what works for you in the comments below!